Today is a super special Five for Friday! I am linking up with Doodlebugs Teaching to show you 5 areas in my classroom!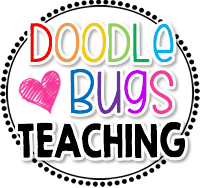 I am really loving my new calendar area and math focus wall. It is helping my firsties to practice a lot of tricky common core concepts every morning, and they are loving all of the activities! I keep everything on magnets so I can move it for math lessons or interventions. Almost every piece of this wall is available in my store:
common core calendar companion kit
mathematical practices signs
number cards
calendar signs
weather sign and pictograph
addition to 10 chant
We have several areas for reading and writing. We have a writing area that also serves as an area for small group intervention.
I made the giant pencil for the writing board from the roll that came inside my classroom carpet. I will display writing samples on this bulletin board throughout the year.
We use this area for our library center. My IKEA chair is perfect for reading books to the class, and two kids can fit together on it pretty comfortably for partner reading. I painted the giant books that hang from the ceiling before my first year teaching. They are getting a little worn, but I just can't retire them yet.
We use the "book store" for shopping for our leveled books. It's easy to move around the room and super easy to maintain. Click here if you want to learn more about the system.
We have a school wide positive behavior program, which is amazing! Our kids love it! I use a magnetic behavior chart on my filing cabinet. Each child has a magnet with his/her number and it moves up or down throughout the day to reflect his/her behavior. At the end of the day, they accumulate "rocket fuel," which is similar to tickets. We store them in a pocket chart, and then the kids can buy rewards from our prize catalogs, or they can buy tickets to reward events!
I adore the windows in my classroom this year! I hung some frames on the windows behind my desk and filled them with pictures of teachers who have inspired me or notes from some super sweet kids. I plan on changing what hangs in the frames throughout the year!
Have a fabulous weekend friends!
3